USANA is a Trusted Partner and Sponsor of the Dr. Oz Show
Check out the Dr. Oz Show Video on Joint Health Here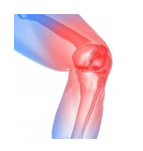 It takes approximately 1,665 steps to get to the top of the Eiffel Tower, 943 steps to fill your grocery cart, and 82 steps to check the mail. No matter where you go, you depend on your joints to get you there.
But for someone suffering from arthritis, even the simplest of tasks, such as walking, can become difficult or even impossible. This condition can hinder their lifestyle and keep them from doing the things they love.
In the United States alone, nearly 50 million people suffer from doctor-diagnosed arthritis, and even more are inconvenienced by minor joint disability every day. Several factors can contribute to the development of joint pain, including genetics, age, obesity, overuse of particular joints, and repetitive motions. Some of these factors are preventable, and others are not.
But while there is no cure for arthritis, you can help minimize the effects and work to keep your joints as healthy as possible. By following these tips from Dr. Tyler Barker of The Orthopedic Specialty Hospital, you can get more life out of your joints:
Stay active—Exercising regularly can help keep your joints moving freely and comfortably.
Stretch—Take time to maintain ligament and muscle flexibility, especially before and after exercise.
Eat right—Be sure to get a well-rounded diet, focusing on fish, fruits, and vegetables. This not only provides balanced nutrition, but also helps to maintain a healthy weight, which is an important step toward maintaining joint health.
Supplementation—Take a well-balanced multivitamin and mineral supplement, along with vitamin D, omega-3, and a quality glucosamine joint formula, to make sure your body and your joints have the nutrients needed to recover from daily wear and tear.
Take care of your joints and put a spring in your step as you continue doing all the things you love!
Live Well!
Robin